back
next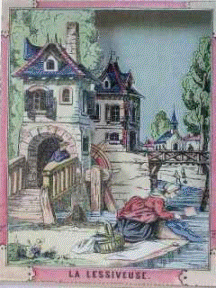 La Lessiveuse - The Washerwoman
Pellerin Nr. 1008, about 1887

Size: 13.5 x 4 X 17.5 cm

Sand power

The washerwoman hits the laundry with a stick.

Falling sand moves a paddlewheel. One side is constructed as a cam which moves a lever up and down. Lever and arm are connected by a shaft. So the rotation of the paddlewheel is transformed into the oscillating movement of the washerwoman.