back
next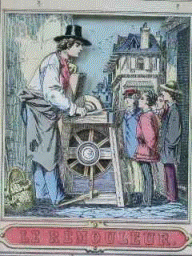 Le Rémouleur - The Knife Grinder
Pellerin Nr. 1020,1875

Size: 14 x 2.5 x 17.5 cm

Crank mechanism

The flywheel of the grinding wheel rotates, the grinder's foot steps on the pedal, his forearm with the knife moves and his head nods.

On the model's backside there is a handle. An eccentric cylinder moves a lever which makes the man's foot bob up and down. A big cam moves a lever for lifting up and down the arm. Another lever moves the head.