Home

New

Designs

Paper Mechanics

Exhibition

About Me

Order

Links



Literary Reference:
Figures in the Fourth Dimension
Mechanical Movement for Puppets and Automata
by Ellen Rixford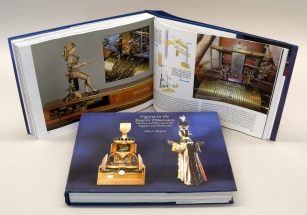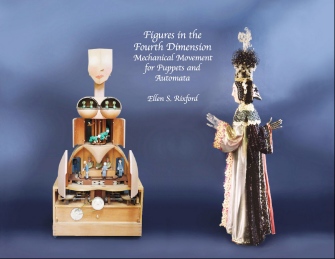 In 2015, the american artist Ellen Rixford has published a fundamental book about mechanical figures and puppets , 514 pages, DIN A4 oblong format, with excellent pictures, price 85 Euro.
You can order it from the author www.ellenrixford.com, it is also available from the book store Walther König in Köln/Germany. www.buchhandlung-walther-koenig.de. Order-Hotline Walther König: 0049-221-20596-0

Ellen Rixford
- explaines basic mechanics,
- describes how to build mechanical puppets,
- presents 16 contemporary automatists with selected works, among them Peter Markey, Keith Newstead, Neil Hardy, Ron Fuller and Paul Spooner,
- and describes also historical clockwork automata.
The function of the automata are described by many pictures of the devices and mechanisms, detailed three-dimensional technical drawings and exact explanations.
This book is highly recommended.
---
ARToy mechanical wooden toy kits

Meanwhile the Taiwanese company Evergreen International Co. offers 11 of my wooden automata kits :
Off Road, Stormy Sea, Good Fishing, Sailing into the Wind, Red Knight, Egyptian Shaduf, Miner with Windlass, Miner with Saw, Go Fly a Kite, Wimbledon und Soaring (Flying Stork). You can paint the models with acrylic colour.
For more information please look at www.go-modelshop.com in the range "ARToy - Moving Model Kit".
---
Available:
Pages: 112
Size: 29.5 x 21.1 x 1 cm
Publisher: Dover Publications Inc
Language: English
ISBN-10: 0486477932
ISBN-13: 978-0486477930
Recommended age: 11 and older

You can order this book from www.doverpublications.com or www.amazon.com

The book contains 24 pages of theory and 14 construction kits. You can assemble eight function models and six paper automata:


1. Crank Slider
2. Oscillating Lever
3. Friction Transfer
4. Meshing Gearwheels
5. Ratchet
6. Cams & Friction wheel
7. Cam & Pushrod
8. Cam & Lever
9. Happy Birthday
10. At the Duck's Pond
11. Pyramid Lifter
12. The Weight of Bureaucracy
13. Pianist
14. Gymnast

Have a look at my pianist in action: http://paperforest.blogspot.com (8/2/2011) and http://www.youtube.com/watch?v=geHQ1ODxjXM

These movies were posted by the automata expert Falk Keuten. The automaton's kit is part of my new book "Paper Models That Move. 14 Ingenious Automata, and More".



---
Automata Blog
I recommend a visit of the blog "Spiel und Kunst mit Mechanik" (game and art with mechanics) by the automata expert Falk Keuten, Bonn: spielundkunstmitmecha.apps-1and1.net
---